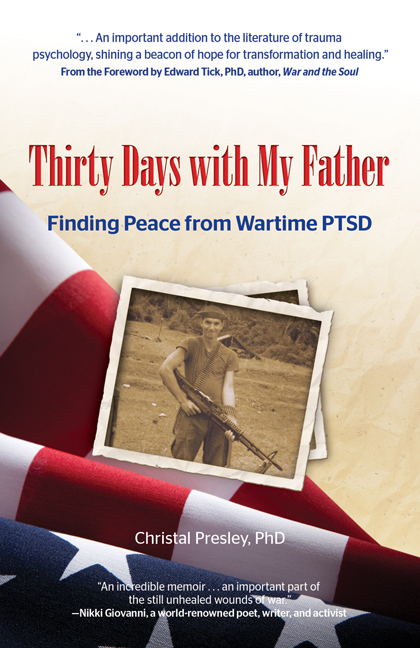 "An incredible memoir…an important part of the still unhealed wounds of war." –Nikki Giovanni, world-renowned poet, writer, and activist
"A haunting portrait of the past's ability to haunt the present." —Publisher's Weekly
"A beautifully written, necessary book–heartrending and affirming all at once." –Lee Smith, best-selling and award-winning author of Mrs. Darcy Meets the Blue-Eyed Stranger and The Last Girls
"…An important addition to the literature of trauma psychology, shining a beacon of hope for transformation and healing." –Ed Tick, author, War and the Soul 
"…You will be profoundly moved by this eloquent, true memoir." –Frank M. Ochberg, MD, Clinical Professor of Psychiatry, Michigan State University, Recipient of the Lifetime Achievement Award of the International Society for Traumatic Stress Studies
"..A truly inspiring portrayal of survival, forgiveness, and love." –Jessica Handler, author of The Magnetic Girl and Invisible Sisters: A Memoir.
"…With great courage to face the darkness and great love to heal the wounds, this book is a journey toward joy–and how a daughter and her father finally find their way back to each other." –Louise Nayer, author of Burned.
I am so grateful to have written a chapter included in Tracy Crow's deeply inspiring book, Red, White & True: Stories of Veterans & Families, World War II to Present. 
"I have not read a more awe-inspiring collection of ground truth of the human experience than the stories I found in Red, White, & True. Deeply moving, compelling, and at times emotionally wrenching to the point of tears, Red, White, and True is an unforgettable and thoroughly rewarding reading experience." —Dwight Jon Zimmerman, New York Times best-selling coauthor of Lincoln's Last Days and coauthor of Uncommon Valor
"If you are or have been a member of the military, read this book. If you love or have loved someone in the military, read this book. If you don't know anyone in the military, read this book. It's a revelation." —Pinckney Benedict, author of Miracle Boy and Other Stories and Town Smokes.